Reply to comment
in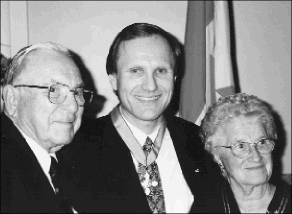 Robert Peck, wearing his award, with parents Robert Sr. and Fleda.
Alumnus Robert Peck was given a remarkable honour on October 21, when the government of Greece invested him as "Grand Commander of the Order of the Phoenix" for his work in promoting Greek-Canadian cultural relations.
Peck, who graduated in 1981 with a BA in Journalism, was from 1995 until earlier this year an official at the Canadian embassy in Athens, where he used great energy and imagination to promote Canadian culture.
He organized Canada's outstanding contribution of artists to the Cultural Capital of Europe 1997 festivities, held in Thessaloniki, and steered negotiations for a Canada-Greece audio-visual co-production treaty, a mutual legal assistance treaty, and a memorandum of understanding in educational co-operation. He also worked closely with Greek officials on the successful visit of the Greek cultural minister to Canada, which resulted in a chair for Greek-Canadian Studies at McGill University.
Montrealer Niki Papachristidis, who helped raise funds for Peck's cultural projects, told The Gazette's Hazel Porter just how willing he is to pitch in. "He convinced the Royal Winnipeg Ballet to dance in their underwear while their costumes were tied up at Greek customs," Papachristidis said, and operated the lights and curtain for a Liona Boyd concert.
The Order of the Phoenix carries great prestige in Greece, and has not, to our knowledge, been given to another Canadian diplomat. The presentation was made by the Greek ambassador to Canada, John-Alexander Thornogiou, at a ceremony held at the Hellenic Community Centre, in Ottawa.
Attending the ceremony were Peck's parents, Robert and Fleda Peck, of Pointe Claire, his wife, Maria Pantazi-Peck, who also works in the foreign service, and his sister, Natalie Chapman. A younger brother, John, was out of town.
Robert Peck, wearing his award, with parents Robert Sr. and Fleda.